BIOGRAPHY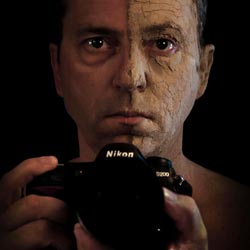 Paolo Spigariol was born on 28 July 1956 in Preganziol (TV) – Italy
Since 1979 he has been interested in naturalistic and landscape photography, in particular birds in the wetlands. He immediately dedicated himself to research and to the specialized documentation of nocturnal birds of prey, using radio controls and "photographic traps". Subsequently, his reports extend to the spontaneous flora of the Veneto region, orchids in particular. He devotes himself in depth to the documentation of the Venice Lagoon. He founded the FotoNatura Association of which he is president. Since 1990 he has developed extensive and in-depth thematic reports, he is dedicated to the Veneto agriculture and to the products of Italian eno-gastronomic excellence using an innovative and very personal style, introspective and dreamlike. Gets prizes and awards in national and international competitions. Author of over a dozen photographic books, he has also published services and images for several Italian and foreign magazines, including Oasis, Airone, D of Repubblica, Focus, Geo Magazine, Financial Times and National Geographic USA. He collaborated with "Il Parallelo Multivisioni" for the production of artistic multivisions. From 2004 he began an experimental artistic journey by printing photos directly on field lands. This is how the Orto-Grafie are born, true photographic sculptures and with them the concept of Geo-Identity takes shape.

Espone con personali e partecipa a collettive di arte contemporanea.
Arte, fotografia e multivisione si fondono in un'unica sperimentale installazione contaminata da percorsi olfattivi, un progetto multimediale e sensoriale dal titolo "L'orto dei sensi", presentato in anteprima ad Asolo in occasione di Fantadia 2013 – Festival Internazionale di Multivisioni e reinterpretato a Treviso – Palazzo Giacomelli in settembre 2015 – in occasione di Expo.
Il 22 aprile 2015 è stato presentato a Milano – Palazzo Morando con altri 19 prestigiosi fotografi italiani selezionati per il progetto "Alinari Contemporary" la storica e più antica al mondo Agenzia (Museo) di fotografia di Firenze.
Nel 2016 in collaborazione con la figlia Valentina e Paolo Nataletti ha concluso la realizzazione della multivisione  "L'incanto e l'arcano – viaggio nel segreto Regno dei Funghi", proiettata in occasione del 50° anniversario del Gruppo Micologico P.A. Saccardo di Treviso. Sempre nel 2016 dopo oltre 10 anni ha realizzato un nuovo volume fotografico dal titolo "Jesoul" per conto del Comune di Jesolo, dal quale un'immagine è stata utilizzata per 2 gigantografie retroilluminate esposte a Jesolo.
Nel 2017 ha realizzato due immagini panoramiche per conto del committente internazionale Artlink, ciascuna  stampata nella dimensione di m. 2×26, esposte in due navi da crociera.
Nel 2018 è iniziata una collaborazione per la realizzazione di un archivio fotografico con il Consorzio del Prosecco DOC.