---
---
PHILOSOPHY, tactile need for matter
---

POET OF THE MUD
Among my most beautiful and intense memories the thanks of a farmer and his wife, in tears after a projection of photo of radicchio. Tears of pride for a job that had always believed among the most humble, but that that evening and for the first time they saw with different eyes, with renewed dignity. And tears of new awareness, awareness of cultivating a product that they knew good and natural, but that they never saw and never even imagined so beautiful and so important.
And what about this testimony: "Paul, whenever we find radicchio in the pot we can not think of your images, now we see it with different eyes and we no longer appreciate just a very good radicchio, but also something precious, artistic and incredibly beautiful. You've changed the way we eat vegetables, you're a real poet. "
"Poet? Poet of the mud "I answered.
In that period I was in fact making a large report on behalf of the Consorzio Radicchio of Treviso and Castelfranco and the muddy autumn and winter campaigns were my usual context.
My relationship with the land and with those who live and work there was taking a new, meaningful embrace. A new sensibility had entered my ropes.
The intuition came when, on the occasion of a photo exhibition on behalf of the Consortium, I discovered the existence of a printer capable of handling panels up to 5 cm. thick. For some time I was dissatisfattattoper for those feelings of artificiality and inconsistency that I often felt observing the glossy photographic prints (Cibachrome) produced with my slides. "Plasticity" is the term that best renders the almost tactile perception of my discomfort, a support not in harmony with my images of countryside and natural products.
"Why not print photos on some more material panel? Wood, plaster … and if I tried with the earth? "
Land, land of the field, the most humble, essential and indispensable of the subjects.
Read more

GEO-IDENTITY
I thought of the land of the fields that at that time I was trampling, just that "mud" that somehow I was celebrating. The first land could therefore not be that of a field of Radicchio di Treviso Rosso Tardivo PGI. The philological value of this path was still in its infancy, but soon it would be completely revealed, consolidating itself in my works. The idea of ​​bringing back the image of a fruit of the earth exactly on the ground that had generated it

fascinated me because of its profound conceptual meaning, with implicit aspects with a vaguely fetishist flavor. I equally intrigued the material component and the tactile perceptions that would derive from it, not least the possibility of intervening in this process using my hands to shape the surfaces.
In my backpack as well as camera and lenses began to find place even bags and headstock, I myself in fact I started to collect land directly from the countryside and production gardens.
A path in which I have privileged the excellent products of Italian agriculture that have obtained recognition and protection of geographical indication (PGI) and designation of origin (PDO), as well as some of the many fine wines ( DOCG and DOC), finally I completed the research also with some products protected by Slow Food Presidia. By extension I have followed the concept of "terroir", which the French apply to wines and vineyards, applying it also to agricultural products and calling it Geo-Identity, or the geological and geographic identity of a very specific and inseparable binomial product- territory. In addition to the initial Radicchio Rosso di Treviso, then the Saffron of L'Aquila, the Brunello di Montalcino, the Prosecco di Valdobbiadene, the Artichoke Violet of Sant'Erasmo (VE), the Zibibbo of Pantelleria, the colored Carrots of Polignano a mare … Original lands, alive and always different, as different are the products that grow there. Clays that are withdrawn and indomitable are writhing or lava soil that are left to mold as if they were a plaster.
Stony lands or sandy silts, rock-hard carat, ferrous red earth and black barony lands. By manipulating the lands you can understand many things, the value of biodiversity as a characteristic intrinsic pedology and as an induced value that together with other components characterizes the uniqueness of a product and the uniqueness of its unmistakable flavor. Sometimes I even believed to find in the lands some character traits of the people living in those lands.
Read more
---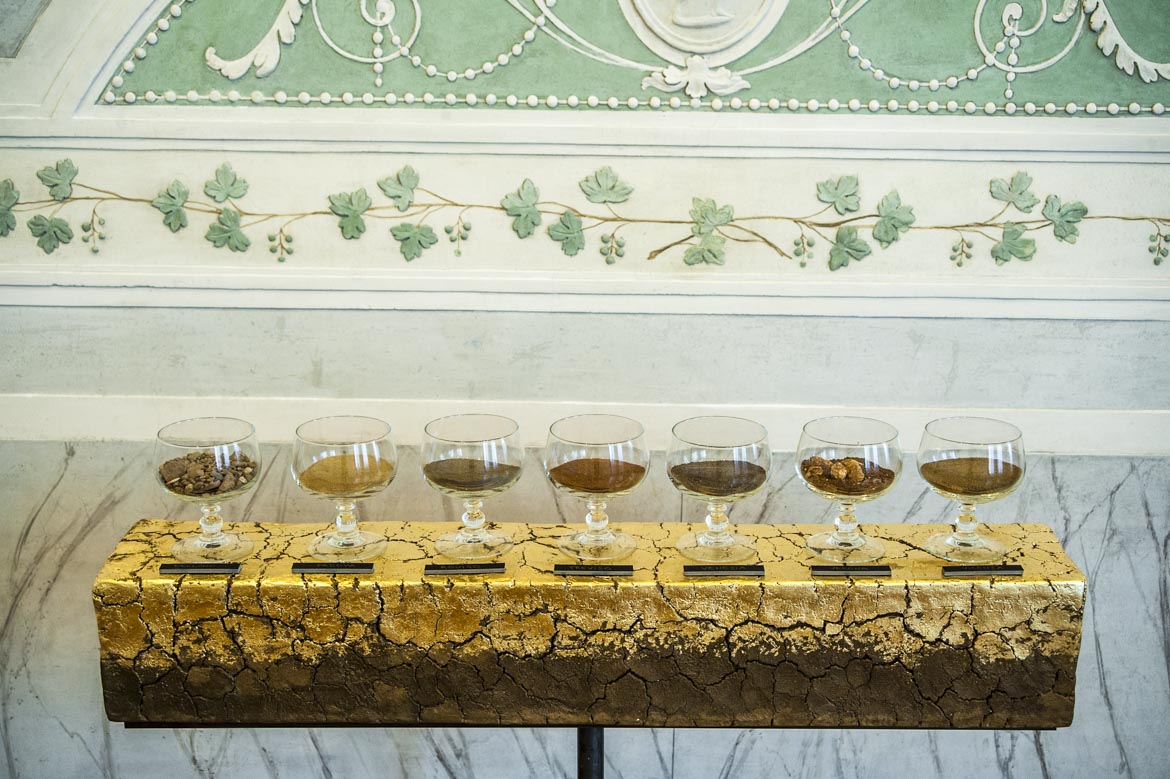 TERRE VENETE. Seven lands for seven Provinces. – Palazzo Giacomelli (TV) September 2015