REPORTAGE
---

During the early years the photo of some landscape or some flower was little more than a moment of attention stolen from bird photography, certainly performed with commitment, but never the result of a preventive project or a dedicated output. It 's been some time before I started, birds leave, to photograph for projects or, better to say, to conceive of reports on specific subjects. It was the Sile, the river of the house, that with its silent green landscapes, the resurgences and the rest, the city glimpses and the wide loops, the pensile features on the lagoon and the little hidden treasures spurred me, with the friend Giuseppe, thinking of a systematic research work to publish a book. This change in style proved to be interesting for many more aspects than I would have expected. First of all, before I told you, I learned how important it is, and indeed necessary, to know the subject and this stimulates you to study and deepen. Photography therefore as a fly of knowledge and not just as an aesthetic end. I started to give names to some flower, to make my own environmentalist or productive concepts, to come into contact with people skilled in this or that, to read about historical episodes, to relate aspects that I would not have thought of, to take appointments, to give space to curiosity.

I have also learned that such an approach allows you to move away from the superficiality, from the "postcard" situations, from the "already seen", so as to reveal unexpected and surprising aspects, often far from common places. Working with a list of well-defined subjects, also means having to commit to photographing apparently non-photogenic subjects, perhaps in environmental and light situations superficially considered not optimal, conditions that require an important creative and technical effort. These are the situations that can give you the most satisfying results.
A commitment that translates into the need for growth and continuous investments, in need to insist and repeat, to question oneself, to face difficult and complicated situations.
I finally realized that sometimes it can be important to develop the ability to imagine situations and contexts in advance. Many photos, even by famous authors, apparently random in reality are not casual, but the result of sensitivity, but above all the result of ability to previsualization and sometimes even preventive organization.
---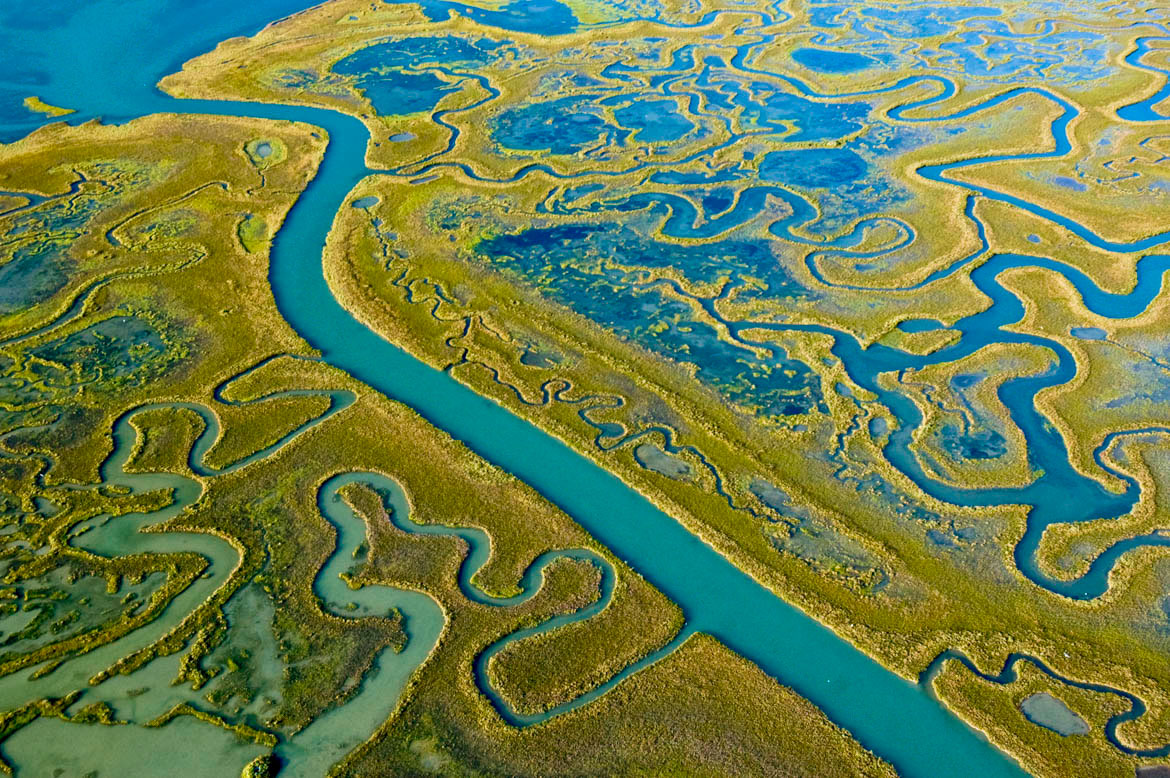 VENICE LAGOON
The Venice lagoon is a fascinating example of how, sometimes, rare times, human interventions while modifying the natural dynamics can mark a wonderful balance between man and nature, determining the design of an ecosystem apparently, but also really, so wild and natural and yet, in some ways, even so artificial. A fragile balance, suspended in the encounter and in the clash between fresh and salt water, where time and landscapes are marked and defined by the perpetual flow and ebb of the tides. An amphibious world, where everything is played and is determined in a few centimeters, in the inexperienced space between velme and salt marshes, ghebi and lakes, mote and reeds. A world where nature and art merge, designing architectures that stand out against a scenic pre-alpine and dolomite corollary …
---

---
---
---
---
---
---

---
---
---